Nokia Corporation NOK recently offered investors a preview of its upcoming quarterly and full-year results and provided bullish projections for 2022 on the back of healthy growth drivers. In addition to a negligible impact from global chip shortages, the company expects to record a solid performance in 2021, owing to some one-time benefits.
Management revealed that overall, businesses are likely to have fared relatively well in fourth-quarter 2021 and are in tune with broad-based expectations. However, the company expects to have recorded higher-than-expected operating income driven by non-recurring benefits from venture fund investments. This, in turn, is likely to have propelled the comparable operating margin for 2021, exceeding the overall guidance.
For 2021, Nokia expects to have recorded net sales of approximately €22.2 billion, which lies within its earlier guided range of €21.7 billion to €22.7 billion. Operating margin for the year is likely to have been in the range of 12.4% to 12.6%, up from earlier projections of 10-12%. This is likely to have been driven by one-off gains due to venture fund investments, a one-off software deal in the second quarter, reversal of bad debt provisions and other undisclosed non-recurring benefits.   
The company expects this growth momentum to continue in 2022 with sustained improvement in business conditions and gradual easing of supply chain disruptions and related cost inflation. For 2022, Nokia expects comparable operating margin to lie within 11% to 13.5%.
By unlocking network efficiencies with common operability, software delivery and increased hardware sharing, Nokia has reduced the total cost of ownership for mobile operators. The company is well-positioned for the ongoing technology cycle, given the strength of its end-to-end portfolio. Its installed base of high-capacity AirScale product is growing fast.  
Nokia is driving the transition of global enterprises into smart virtual networks by creating a single network for all services, converging mobile and fixed broadband, IP routing and optical networks with the software and services to manage them. Leveraging state-of-the-art technology, it is transforming the way people and things communicate and connect with each other. These include seamless transition to 5G technology, ultra-broadband access, IP and Software Defined Networking, cloud applications and IoT.
The company facilitates its customers to move away from an economy-of-scale network operating model to demand-driven operations by offering easy programmability and flexible automation to support dynamic operations, reduce complexity and improve efficiency. Nokia remains focused on building a robust scalable software business and expanding it to structurally attractive enterprise adjacencies. It has inked more than 207 commercial 5G contracts across the globe. The company's end-to-end portfolio includes products and services for every part of a network, which are helping operators to enable key 5G capabilities, such as network slicing, distributed cloud and industrial IoT. Accelerated strategy execution, sharpened customer focus and reduced long-term costs are expected to position the company as a global leader in the delivery of end-to-end 5G solutions.
The stock has gained 53.9% in the past year compared with the industry's rally of 17.5%. We remain impressed with the inherent growth potential of this Zacks Rank #4 (Sell) stock.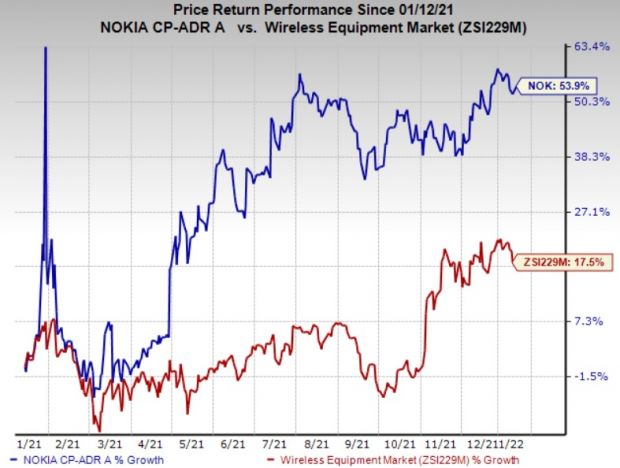 Image Source: Zacks Investment Research
A better-ranked stock in the industry is Qualcomm Incorporated QCOM, carrying a Zacks Rank #2 (Buy). It has a long-term earnings growth expectation of 15.3% and delivered an earnings surprise of 11.2%, on average, in the trailing four quarters.
Earnings estimates for the current year for the stock have moved up 29.7% over the past year, while that for the next fiscal is up 48.1%. Qualcomm is likely to benefit in the long run from solid 5G traction and a surge in demand for essential products that are the building blocks of digital transformation in the cloud economy.
SeaChange International, Inc. SEAC, carrying a Zacks Rank #2, is another solid pick for investors. You can see the complete list of today's Zacks #1 Rank (Strong Buy) stocks here.
SeaChange delivered an earnings surprise of 37.2%, on average, in the trailing four quarters and has a long-term growth expectation of 10%. Earnings estimates for the current year for the stock have moved up 35.7% since January 2021. Over the past year, SeaChange has gained a modest 32.5%.
Vocera Communications, Inc. VCRA sports a Zacks Rank #1. It has a long-term earnings growth expectation of 18% and delivered a stellar earnings surprise of 109.6%, on average, in the trailing four quarters.
Over the past year, Vocera has gained 77.8%. It offers an all-inclusive digital platform for hands-free communication via secure text messaging, alert and alarm management. Leveraging a patent-protected, enterprise-class server software, Vocera provides an advanced clinical rules engine that simultaneously unifies data from multiple sources, prioritizes notifications and sends messages to the right care team members. This, in turn, augments clinical workflow by enabling the interoperability of the solution with a significant number of clinical and operational systems used in hospitals today.
Zacks' Top Picks to Cash in on Artificial Intelligence
This world-changing technology is projected to generate $100s of billions by 2025. From self-driving cars to consumer data analysis, people are relying on machines more than we ever have before. Now is the time to capitalize on the 4th Industrial Revolution. Zacks' urgent special report reveals 6 AI picks investors need to know about today.
See 6 Artificial Intelligence Stocks With Extreme Upside Potential>>
Click to get this free report
QUALCOMM Incorporated (QCOM): Free Stock Analysis Report
Nokia Corporation (NOK): Free Stock Analysis Report
SeaChange International, Inc. (SEAC): Free Stock Analysis Report
Vocera Communications, Inc. (VCRA): Free Stock Analysis Report
To read this article on Zacks.com click here.
Zacks Investment Research
The views and opinions expressed herein are the views and opinions of the author and do not necessarily reflect those of Nasdaq, Inc.